Fresh flowers always make a perfect gift. Not only looking beautiful in the eyes, but flowers also contains hidden meanings you may never hear before. Therefore, when searching for a gift, the safest choice would always refer to flowers since they suit many occasions. You can play with different types of flowers because their species are various. Furthermore, you can also play with your creativity when arranging them into an eye-catching bouquet.
However, do you know that there are many types of flower bouquets? If you have no clue about it, take a lot of the different types flower arrangements that appear in many forms and varieties. Learning more about various types of bouquets helps you to get the perfect one for your occasion. Let's check below!
What is a Bouquet?
If you look for a gift recommendation, the option always refer to bouquets. What is a bouquet? We bet most of you already know what it look. Yup, a bouquet is a simple way to speak the language of love, support, gratitude, happiness, and even sorrow to someone. This one of the most popular gift ideas usually uses fresh blooms as its item, but you can also add essential things that are probably seen as a gift for someone, depending on the receiver. It's up to you!
Almost every occasion is great with bouquets, for example, a wedding ceremony, birthday party, your parent's anniversary, or even a funeral service. What makes it different is the type of the bouquet itself. Therefore, ensure to only gift the right one!
Types of Bouquets
Apart from its variety, bouquet of flowers always appears in a beautiful design. It surely will bring a smile to the recipient. Therefore, this treat of love, support, and happiness is what people would run to whenever they want to express their feeling to family, friends, and relatives. To enlarge your knowledge about this beautiful stuff, here are the types of bouquets you need to know.
Hand-Tied Bouquet
If you're asking about the most popular flower arrangement on the market and what people usually go for, it could be a hand-tied bouquet. Perfect for many events, including romantic occasions, or simply handing it to your favorite person, a hand-tied bouquet is a bundle of flowers tied manually with easy-to-find materials, such as string, wire, and ribbon. You can even make it yourself since the process is pretty simple.
Bride Bouquet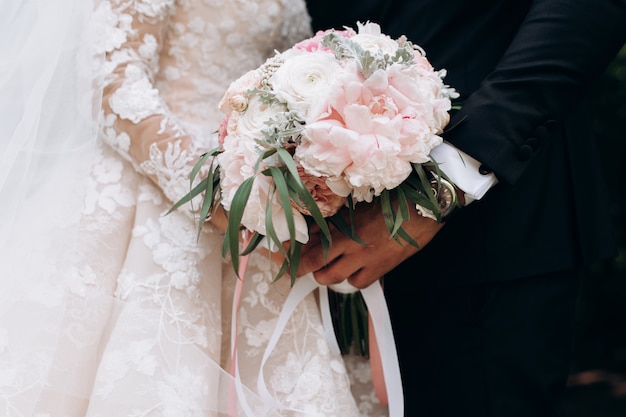 When attending wedding ceremonies, you must be familiar with this thing. A beautifully arranged flower that held by brides is called a bride bouquet. A bunch of flowers prepared in concentric circles makes this type of bouquets noticeable. It's an ideal choice for any bride preparing for their big day. Fresh blooms of orchids, dahlias, roses, and tulips are great to make a flower arrangement for brides appealing.
Shower Bouquet
Hearing its name, you must be questioning what exactly this type of floral arrangement is. Well, shower bouquets were being popular by Princess Diana who held a long hand bouquet at her wedding decades ago. This type of flower for a wedding is significant for its upside-down teardrop-shaped bouquet. It usually consists of beautiful blooms, such as gardenias, lilies, roses, and hydrangeas. The fun fact about the shower bouquet is it's heavy!
Basket Bouquet
Bouquets not only appear as a hand-sized floral arrangement but further than that. You can also meet a basket bouquet. As the name suggest, this type refers to a bunch of fresh petals arranged in a basket. For some conditions, you can use other things, such as a container. This type of floral arrangement is famously known as a part of garden party decorations.
Oriental Flower Arrangement
Do you know some countries have different representations of flower arrangements? If you're not into western style, there's an oriental flower arrangement you can take for your formal, even sacred occasion. This type is highly structured and it is mainly used to flaunt the beauty of the blooms, such as blue roses. In Chinese culture, blue roses signify honesty, the hope of the unattainable or the impossible, love, and beauty. Therefore, sending blue roses Singapore is the best way to deliver thoughtful wishes to your loved ones.
Horizontal Bouquet
Looking for a flower arrangement that is perfect for a dining table decoration? You can always use a horizontal bouquet. This type of bouquet made of flowers is perfect to be placed on a flat surface, like a dining table. You may meet it at the spa as well where it is usually placed along with aromatherapy candles.
S-shaped Flower Arrangement
Want to bring your place to the next level? For truly artistic arrangements made with beautiful petals of fresh blooms, you can decorate your stairways and fences with the s-shaped flower arrangement. Commonly used for grand houses, this type never disappointed to display artificial vibes for an avant-garde look.
Fan Bouquet
As the name suggests, fan bouquets look exactly like traditional fan that is always associated with the Asian theme. It looks unique and attractive. This type appears in two styles. Apart from those two different styles, fan bouquets usually refer to some fresh blooms arranged in a container that is designed like a fan.