A lot of nineties icons are killing it in Hollywood right now. Winona Ryder made a strong comeback in "Stranger Things," Keanu Reeves is as handsome and tough as ever as "John Wick," Drew Barrymore is no longer just a beloved actress but a makeup developer as well, and Alicia Silverstone (Cher Horowitz in "Clueless) is still showing teens and tweens how to do plaid right.
It is no wonder a lot of kids from the nineties are feeling some sort of revival and embracing grunge yet again, and young people are taking a cue. If grunge is a style trend that you want to jump on (because… come on, there's no cooler era than the one that didn't seem to care), you need to know the most important rules to achieve the authentically nineties grunge style.
What are they?
Rule No. 1 – Denim rules.
Denim "anything" is a must for a grunge look. A plain or tribal print denim jacket (hello, Fresh Prince of Bel Air!) will serve you well. You can wear it over thrift store T-shirts and vintage dresses.
Jeans and jean skirts should make their way to your closet, too. The more distressed they are, the better – but do the distressing yourself. Store-bought distressed jeans just do not cut it.
Overalls are great to have as well, especially now that a lot of clothing retail stores carry them.
Rule No. 2 – You need plaid in your life.
Plaid shirts, particularly, are the epitome of grunge. They tend to look like pyjama tops, which authentic grunge style embraces.
Don them as a regular top, just like Alicia Silverstone did in Aerosmith's "Cryin'" music video. You can also wear it as a layering piece as well – over a shirt, or tied around the waist, which was the belt substitute when Seattle alternative rock frequently topped music charts.
Rule No. 3 – The baby doll dress is a girl's best friend.
Pretty but utilitarian in the nineties came in the form of a baby doll dress.
A short baby doll dress was among the most comfortable pieces to wear and it was so easy to style it up or down. If you are going for a grunge but dainty nineties look, pair this dress with platform sandals or Mary Janes. If you want to go full-on grunge, Chuck Taylors or Doc Martens boots are the perfect footwear.
Rule No. 4 – You gotta love chunky shoes.
Platform shoes, Doc Martens, and Timberlands were all the rage back in the day, and they were worn with everything – sexy slip dresses, jeans, and even suits. A grunge attire is simply not complete without these iconic nineties footwear.
Rule No. 5 – Protect your peepers and look cool at the same time.
Round sunglasses in whatever colour you like are the perfect accessories. Take a cue from the members of Oasis, the English rock band and the icons of grunge-slash-retro-in-the-metro style. These coloured specs just complete the look and they are a nice colour break from the typical all black or dark-coloured ensembles of grunge fashionistas.
Rule No. 6 – "Grunge face" is either au natural or thick matte makeup.
There's no in between for a grunge-inspired face (any professional makeup artist will attest to this), you can only go completely bare or have full coverage matte makeup.
If you are for an all-natural face, pile on the moisturiser and sunscreen.
Now, if you want to totally commit to the eerily flawless face of the era, you need a full coverage powder foundation, an eyebrow pencil to draw a thin line for your brows, eyeliner, and the matte-st neutral or dark lipstick you can find.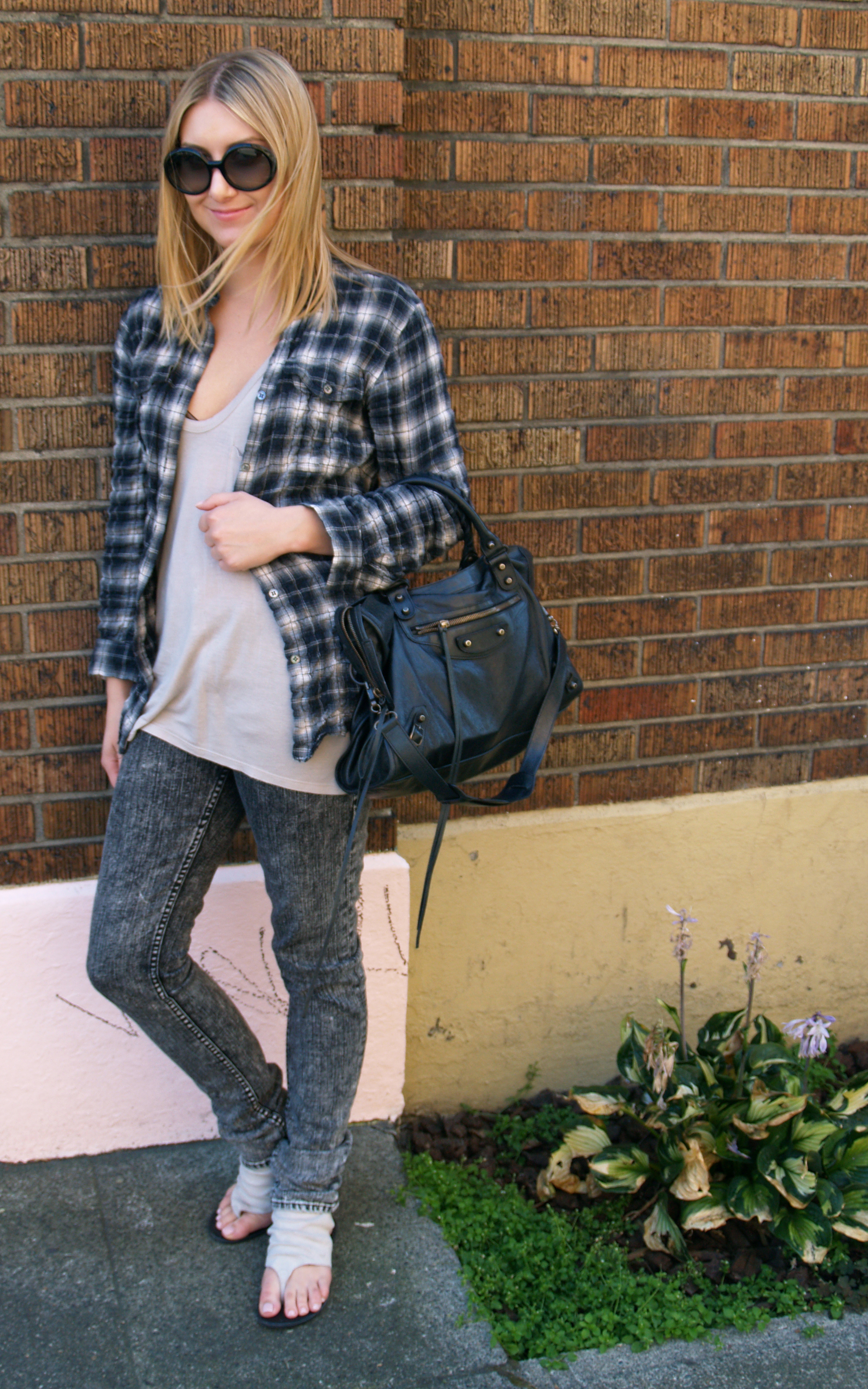 Rule No. 7 – Accessorise with beads, leather, and silver jewellery.
Nineties grunge is like a combination of a hippie and rocker, and the trademark accessories prove this. Love beads, leather or lanyard choker necklaces, and lots of silver jewellery are the bling must-haves.
Follow these rules, plus imbibe a carefree and confident attitude, as well as the knack for witty (and a little snarky) comebacks — these are the sure-fire ways to be authentically nineties grunge.
AUTHOR BIO
Ethiopian-born and Dubai-based fashion designer Feiruza Mudessir discovered her curiosity to mix the traditional with contemporary at a young age, and this has become the trademark of her designs today. When you slip into one of Feiruza's creations, you can almost hear the rhythms of Africa, the beats of India and the vibrancy of Dubai – this distinctive and colourful mélange is just what Finchitua is about.